Surprising Figures On U.S. Jobs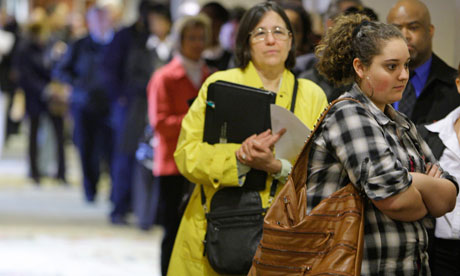 One of many issues the country is talking about this election season is JOBS. A new study by the National Employment Law Project seems to confirm what many Americans have suspected – that middle class jobs are leaving the US and being replaced with low-paying jobs in the retail and service industries.
According to data compiled by NELP, low wage jobs account for 58% of the growth seen in the last four years. So it's not really a case of "there aren't any jobs out there" as it is "there aren't any good jobs out there".
"High-wage" occupations accounted for 19% of the jobs lost during the Great Recession and 20% of the jobs gained during the recovery.
"Mid-wage" occupations suffered 60% of job losses during the recession but only 22% of the growth during the recovery.
"Low-wage" occupations accounted for 21% of the losses and a whopping 58% of the growth, as stated before.
"In short, America's good jobs deficit continues," NELP said in a summary of the study. "Policymakers have understandably been focused on the urgent goal of getting U.S. employment back to where it was before the recession…but our findings underscore that job quality is rapidly emerging as a second front in the struggling economy."
In other words, The market for middle class jobs has shrunk and most of the jobs that have been created during the recession are in low-income areas like retail and food services.
Globalization, government spending cuts and the collapse of the construction industry have all contributed to this radical restructuring of the country's workforce. So what do you guys think? What does the country need to do to create good jobs and stabilize the rising income inequality?
Comments
comments
Powered by Facebook Comments